Using irrelevant/too many social networks
Who is your audience and where are they most likely to hang out? This is the key starting point for social marketeers. This article assumes that they are active online, although there remains a small segment of (mainly older people and a few younger die-hards) who are not online; if this is the case then social media is probably not the most effective channel through which to communicate with them first hand.
Overall it is better to choose one or two social networks which target your audience most effectively, and focus on managing those very well, as opposed to stretching your time thinly across lots of different networks. Having selected a primary social network, you can increase your reach by adding another one or two networks, as long as you are able to dedicate the time required to manage these effectively.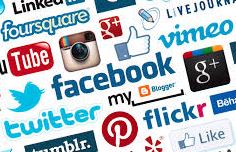 At the time of writing, Facebook still has the critical majority audience, with well in excess of a billion users globally, with the highest penetration among 25-54 years olds and a slight bias towards females. It is among the most casual and relaxed of social networks, very visual and with good functionality and regular updates for users. However, traffic is busy, with paid posts competing for attention with free posts, and Facebook has cleverly adjusted its algorithms to ensure that the paid ones obtain the highest reach.
Twitter also has a significant usership, a slighly younger profile than Facebook, is very news oriented, and is excellent for reaching out using hashtags (#) to local towns, geographical areas and sectors/interests. As a micro-blogging platform, posts are limited by characters (140 maximum, excluding images and photos). Posts have become more visual, and like most networks, there has been a notable increase in video-based content.
Pinterest, which started life in middle-America as a 'scrapbooking' arts and crafts-based network, has expanded from its roots to over 70 million users, with a distinctly young to middle-age female profile. It is among the most visual networks, using mainly image-based posts on interest 'pin boards'. Not surprisingly, it works especially well for anything creative, from home furnishings and decor to wedding-related goods, cakes and crafts.
With an ongoing trend towards more engaging video-based content (according to the Wall Street Journal, by 2021, 70% of all mobile traffic to social media sites will be video-based), YouTube is well placed as a video channel, and as a result of its Google ownership, generates higher SEO priority for businesses with significant traffic active on it.
LinkedIn is perhaps the most formal and professional of all the social networks, with over 600 million users worldwide and a bias towards the 30-50 year age group. Although it can be a challenge to direct volumes of traffic to its business pages, it remains an excellent way to make personal connections with other business people, for B2B communications and to find work contracts/professional support. LinkedIn's functionality remains pretty basic, although its recent purchase by Microsoft suggests that greater functionality may be on the cards for the future.
No longer the new kid on the block, Instagram has been developing fast, with a young profile, particularly the under 30 year olds (and including children as young as primary school age). Mainly image-based, with a liberal reliance on the use of hashtags, it is especially effective for B2C businesses, including retail, beauty, food and entertainment.
Google Plus is now five years old, but has not reached the ambitious position first assumed with the Google empire backing it, despite its integration with Google search, Gmail and YouTube. Hangouts, Google Plus's video chat facility, remains a popular function, and its SEO capability makes for a compelling reason to create a profile. However, many SME businesses have failed to add Google Plus, as an additional network, as have many consumers, leaving the potential audience biased towards corporates, and tech/design businesses. The jury is still out currently, and it will be interesting to see what plans Google has for the future of Plus.
Other platforms worthy of note include Snapchat, an image messaging and multimedia mobile app, rapidly adopted by the younger generations.
Once you have selected your social networks, content and messaging are of prime importance – what do you want to say to them/show them, and what do you want them to do as a result? Engagement is key, with virality a particular challenge in these times of low attention spans and apathy. There'll be more about producing/sourcing engaging content in a future blog in this series.
The next big disruption in social media has yet to be seen, but with the progression of virtual reality, smart home technology and Chinese 'super apps', these are interesting times…
Do contact us if you would like any support with your social media, whether choosing suitable networks, learning how to use them, planning activity, creating/sourcing relevant content or other challenges.