Karen is delighted to have been invited to give a talk at a forthcoming business event, 'Go for Growth 2014' in Orpington on 20 May 2014. She will be sharing her knowledge about how to ensure that your business's marketing supports your business objectives.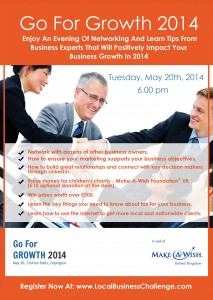 This event is designed to help SME businesses grow, through sharing expert information, advice and tips, and it will also be raising important funds for the brilliant Make-A-Wish Foundation.
For more information about this event and to register, click here.