The latest update from Vicenzo Cosenza, which examines the top social networks in 137 countries worldwide, reveals a continuing dominance by Facebook (in blue) in almost all countries except China and Russia.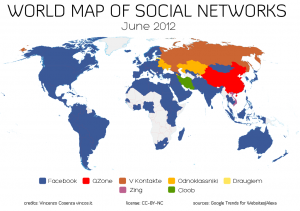 Facebook dominates the picture in 126 of the 137 countries measured. Click here to see the changing world landscape over time from mid-2009.
Looking at the picture by country, it is evident that QZone in red), Tencent Weibo and Sina Weibo are the top platforms to hang out in China, whilst Russian speaking countries use VKontakte (in brown) and Odnoklassniki (in amber) above Facebook. In Europe, Twitter and LinkedIn are the second most popular platforms, with Badoo in a strong position in certain European countries (including France, Italy and Portugal).  Access in countries such as Iran remain restricted by censorship.
This chart is updated twice a year, so we are watching with interest to see how the picture develops in the future.
For more information from the author of this research click here.